Innochamp Machine Tools Sdn Bhd
5, Jalan Bayu 2/3,
Taman Perindustrian Tampoi Jaya,
81200 Johor Bahru,
Johor, Malaysia.

+607-2362814

+607-2362396

019-7774523(Mr Lee)
019-7712489 (Jimmy)
lee@innochamp.com.my
jimmy@innochamp.com.my
J23 series of open-dumping Press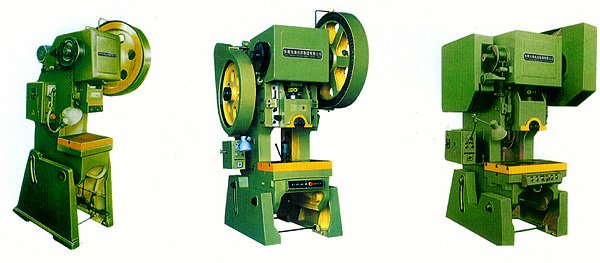 By tilting the fuselage - casting structure, the fish when it tilted stamping parts or scrap them slipping from the mold.
Keys to adopt rigid clutch with a single and continuous operation norms.
The use of single-brakes, the collapse of insurance slider equipped with pressure, overpressure when the pressure was the collapse of insurance, in order to ensure unit from damage.
This machine has high universality, high accuracy, high reliability, ease of operation, etc.
Name / technical parameters / model

J23-6.3
J23-10B
J23-16
J23-25
JB23-35B
JG23-40
JG23-63
J23-80
J23-100B
J23-125

Nominal power

KN
63
100
160
250
350
400
630
800
1000
1250

Nominal power trip

mm
25
4
5
6
7
8.4
8.5
8.5
10
10

His slider

mm
35
60
55
80
100
120
120
130
16-140
16-140

Trip frequency

min-1
170
145
120
55
53
55
50
45
45
45

The largest membrane highly loaded

mm
150
180
220
250
205
300
360
400
400
400

Regulation of membrane highly loaded

mm
30
35
45
70
100
80
80
80
100
100

Slider centers to the fuselage distance

mm
110
130
160
190
205
250
260
300
320
320

Table size (length * W)

mm
200*310
240*360
300*450
360*560
380*610
480*710
480*710
580*860
600*900
600*900

Fuselage table size (diameter * long * W)

mm

žŠ140*

110*160

žŠ130*

90*180

žŠ210*

160*240

žŠ180*

130*260

žŠ200*

140*300

žŠ200*

150*300

žŠ250*

200*340

žŠ250*

200*340

žŠ320*

250*420

žŠ320*

250*420

Table plate thickness

mm
30
50
60
70
70
80
90
100
110
110

Bottom slider size (about before and after *)

mm
120*140
150*170
180*200
210*250
215*260
270*320
270*320
280*380
350*540
350*540

Die stalk hole size (diameter * Depth)

mm
žŠ30*55
žŠ30*55
žŠ40*60
žŠ40*70
žŠ40*60
žŠ50*70
žŠ50*80
žŠ60*75
žŠ60*80
žŠ60*80

The largest tilting angle of the fuselage

°
45°
30°
35°
30°
30°
30°
30°
20°
30°
30°

Column spacing between

mm
150
180
220
260
300
300
350
350
420
420

Motor

Model

Y90S-6
Y90L-6
Y100S-6
Y100L-4
Y100L2-4
Y132M-6
Y132M2-6
Y160M-6
Y132M-4
Y132M-4

Power

KW
0.75
1.1
1.5
2.2
3
4
5.5
7.5
7.5
7.5

Appearance Dimensions (long * wide *)

mm

780*

610*1530

915*

700*1690

1130*

834*1890

1325*

990*2140

1480*

1050*2145

1600*

1180*2310

1810*

1350*2740

1810*

1350*2740

1710*

1060*2600

1710*

1060*2600

Net weight / gross weight

Kg
400/500
580/770
1055/1380
1650/2050
2500
3100/3500
4000/4500
4500
6800/7600
7000/7600

Export packaging size (length * wide *)

mm

1730*

940*1140

1970*

900*1160

2200*

1030*1480

2500*

1235*1820

2650*

1500*1920

3400*

1670*2150

2200*

1460*2950

2200*

1460*2950