Innochamp Machine Tools Sdn Bhd
5, Jalan Bayu 2/3,
Taman Perindustrian Tampoi Jaya,
81200 Johor Bahru,
Johor, Malaysia.

+607-2362814

+607-2362396

019-7774523(Mr Lee)
019-7712489 (Jimmy)
lee@innochamp.com.my
jimmy@innochamp.com.my
JH21 Series Open Immobilized-plate Press Machine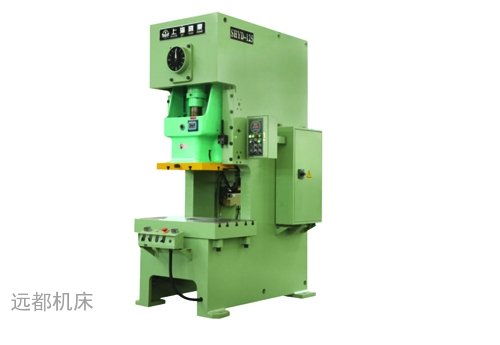 Features:
1、Steel welded body provides high rigidity and stable precision.
2、Adoption of dry or wet pneumatic frictional clutch-detent, the movements are sensitive and reliable.
3、Precisely grinded rack wheel and wheel shaft, low machine operation noise.
4、 Slide blocks with hex-sided guide rail and air pressured balance system, the movements are stable and the precisions are pinpointed.
5、Adoption of the hydraulic over loading protection system, effectively protect the pressure machine and the mold.
6、 Adoption of PLC controlling system, when equipped with automatic feeding devices, an automatic pressing production line of mono-machine or multi-machines can be engendered.
7、Two different stepless gearings and strokes are optional besides the machine set speed, appropriately fitting the craftsmanship of the pressing part and elevating production efficiency.
Standard Configuration:
1、Hydraulic over loading protection system.
2、Automatic lubricating system.
3、Mould installation Height adjustment device. (manual below 45T, electronic above 60T).
4、Mould height in dicator. (mechanical designation below 45T, digital display above 60T)
5、Balance unit for slide block and mould.
6、Rotation cam controller.
7、Crooked shaft angle in dicator.
8、Working counter
9、Air power material blowing device.
10、Material propping device.
11、Shockresist rubber mat.
Optional part: (shall be indicated in the purchasing contract)
1、Air bag mould mat device.
2、Stepless gearing device.(Inverter or gearing motor).
3、Photo electricity safety device.
4、Preset arithmometer.
5、Electronic cam control systemm (equipped as standard above model 250T).
6、Movable electrical equipments control box. (equipped as standard above model 250T).
7、Movable operation box for both hands.
8、Pedal power switch.
9、Automation feeding output shaft.
10、Automatic feeding device.
11、Double degree dropping arrester.
12、Rapid mold displacing unit.
主要技术参数:
型号/技术参数
Model/Technical parameters
JH21-25
JH21-45
JH21-60
JH21-80
JH21-125
JH21-160
JH21-200
JH21-250
JH21-315
JH21-400
滑块公称压力(KN)
Slide block nominal pressure(KN)
250
450
600
800
1250
1600
2000
2500
3150
4000
能力发生位置(mm)
Capacity engender position (mm)
3/2
3.2/3
4/2.5
4.5/2.5
5/.
6/3.5
7/3.5
7/4
7/4
8/4.5
滑块行程(mm)
Slide block stroke (mm)
80/50
120/60
140/80
160/90
180/100
200/120
250/130
250/150
250/150
280/180

行程次数
(S.P.M)

Stroke
frequency
(S.P.M)

固定
Fixation
100
80
70
60
65
45
45
40
40
35
可变
Variable
L
60-100
50-80
40-70
35-60
35-65
25-45
25-45
25-40
25-40
20-35
S
80-140
70-130
60-110
55-100
50-95
40/75
35-60
30-55
30/55
30-50
最大封闭高度(mm)
Max closing height(mm)
250/265
270/300
300/330
320/355
350/390
400/440
450/510
500/550
500/550
530/580
封闭高度调节量(mm)
Closing height adjust measurement(mm)
50
60
70
80
90
100
110
120
120
120
滑块中心距机身距离(mm)
Distance between the center of the slide block and the body(mm)
210
225
270
310
350
390
430
450
450
480
工作台尺寸
(mm)

Worktable measurements
(mm)

左右
Left Right
700
810
870
950
1100
1170
1390
1500
1540
1700
前后
Front Behind
400
440
520
600
680
760
840
880
880
940
厚度
Depth
80
110
130
140
155
165
180
190
190
200
滑块底平面尺寸 (mm)
Plane dimension of the slide block bottom (mm)
左右
Left Right
360
410
480
540
620
700
880
950
950
1000
前后
Front Behind
250
340
400
460
520
580
650
700
700
750
模柄孔尺寸
(mm)

Mould stem hole dimension (mm)
直径
Diameter
40
50
50
50
70
70
70
70
70
70
深度
Depth
60
60
70
70
90
100
100
100
100
100
地脚螺栓距离
(mm)

Foundation bolt dimension (mm)
前后
Front Behind
1080
1190
110
1235
1510
1660
2020
2150
2320
2500
左右
Left Right
690
745
840
920
1040
1140
1360
1460
1500
1550

外形尺寸
(mm)

Outline (mm)

前后
Front Behind
1390
1625
1685
1990
2125
2355
2580
2820
3060
3150
左右
Left Right
830
1075
1200
1280
1220
1375
1690
1680
1720
1790
高
Height
2120
2391
2530
2725
3055
3215
3810
3915
3957
4010
气囊
Airbag
顶出能力KN
Propping capacity KN
23
35
63
80
100
140
140
140
140
行程 mm
Stroke mm
60
70
80
90
100
100
100
100
100
顶板面积 mm
Propping plate acreage mm
300×220
350×220
410×220
460×340
540×420
560×420
560×420
560×420
560×420
电动机功率(kw)(固/变)
Electromotor Power (kw)
(Fixation/Variable)
2.2/3
5.5/5.5
5.5/7.5
7.5/11
7.5/11
15/18.5
15/18.5
22/30
30/37
37/45
重量(kg) Weight (kg)
2600
3500
5500
7500
9800
15200
20500
23500
28000
33000
使用空气压力(Mpa)
Air pressure used (Mpa)
0.5
0.5
0.5
0.5
0.5
0.5
0.5
0.5
0.5
0.5
技术参数如有变动,恕不另行通知!