Innochamp Machine Tools Sdn Bhd
5, Jalan Bayu 2/3,
Taman Perindustrian Tampoi Jaya,
81200 Johor Bahru,
Johor, Malaysia.

+607-2362814

+607-2362396

019-7774523(Mr Lee)
019-7712489 (Jimmy)
lee@innochamp.com.my
jimmy@innochamp.com.my
Pipe rolling machine (Hydraulic type)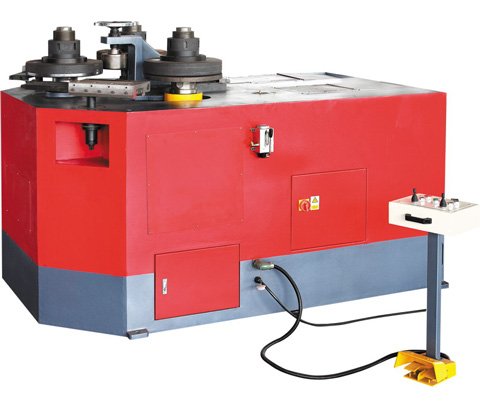 Characteristics of Rolling Machine:
Process mechanical transmission with compact form and high reliability.

Do not skid easily with three rollers drive and can roll material with thin wall thickness.

Can feeding in both sides.

Two petals and a urgent stop make it easy to operate.

This machine drives stably and can processing different round, arc and spire.

It can process different profiles like angle iron, flat iron, round pipe and other different sections.

It can produce profiles with large radius without making super size molds.
Technical Specification of Rolling Machine:
Model
KM-JW10
KM-JW20
KM-JW30
KM-JW40
KM-JW50
KM-JW75
KM-JW89
KM-JW100
KM-JW115
KM-JW159
KM-JW168
KM-JW180
KM-JW219
KM-JW245
KM-JW280
KM-JW325
KM-JW350
KM-JW400
KM-JW450
KM-JW500
Max. Section
Modulus of
elasticity(cm3)
0.8
1.5
2
4
7
23
35
53
59
119
158
205
356
450
562
993
1163
1826
2662
3749
Rolling Speed
(m/min)
7.8
7.8
7
7
6
5
4
Bend limit(MPa)
ds=250
Round
Pipe
Max. OD
19
25
32
38
50
76
89
89
114
159
168
168
219
245
273
325
351
402
450
500
wall
thickness
1.5
1.5
2
2.5
3
4.5
5
8
5
5
6
8
8
8
8
10
10
12
14
16
min.
bending
dia.
200
380
480
500
500
900
1100
1100
1250
1800
2000
2000
2600
3000
3500
4000
4500
4800
5400
6000
Round
Steel
Bar
Max. OD
12
16
20
28
30
50
55
65
70
85
95
105
120
135
145
160
180
200
220
250
min.
bending
dia.
200
260
300
350
450
600
600
800
1000
1100
1200
1300
1350
1800
2000
2000
2200
2200
2500
3000
Square
Pipe
max.
section
20
×20
25
×25
30
×30
40
×40
40
×40
70
×70
80
×80
90
×90
90
×90
100
×100
120
×120
140
×140
160
×160
180
×180
200
×200
200
×200
250
×250
300
×300
350
×350
400
×400
wall
thickness
1.5
1.5
2
2
3
4
5
6
8
8
10
10
12
12
12
14
14
14
16
18
min.
bending
dia.
360
420
500
700
800
1100
1200
1500
1500
1600
2000
2500
3000
3500
3500
4000
4000
4000
4500
5000
Flate
Pipe
bend
in
hard
way
max.
section
20
25
30
40
45
75
85
100
100
120
120
140
160
180
200
220
250
250
300
350
wall
thickness
8
8
8
10
12
16
18
20
22
30
40
40
50
50
50
60
60
70
70
80
min.
bending
dia.
240
300
380
450
500
750
800
1000
1200
1400
1600
1800
2000
2200
2400
2500
2500
3000
3500
4000
Flate
Pipe
bend
in
ease
way
max.
section
40
50
50
60
70
100
120
150
180
200
250
300
350
350
400
500
500
500
500
500
wall
thickness
8
10
14
18
18
25
30
35
35
45
45
50
60
70
70
70
80
100
120
150
min.
bending
dia.
200
280
300
500
650
850
900
1200
1400
1600
1800
2000
2200
2500
3000
3200
3500
4000
4000
4500
Angle
Steel


incurvature

max.
section
20
×3
25
×3
30
×3
40
×4
50
×3
70
×8
80
×8
90
×10
100
×10
125
×12
140
×16
160
×14
160
×16
180
×14
200
×18
200
×20
250
×20
300
×20
300
×25
400
×30
min.
bending
dia.
300
350
400
600
800
1000
1200
1500
2000
2400
2500
2600
2600
3600
3600
4000
4000
4500
5000
5000
min.
section
-
-
-
-
20×5
30×3
35×3
36×5
38×4
40×5
50×5
50×6
60×6
70×6
75×6
85×6
100×7
120×7
120×7
150×8
min.
bending
dia.
-
-
-
-
800
1000
1500
1700
2100
2500
2800
2800
2800
4000
4000
4500
4500
5000
5000
5000
Angle
Steel


excurvature

max.
section
20
×3
25
×3
30
×3
40
×4
50
×5
80
×8
90
×10
100
×10
125
×12
140
×16
160
×14
160
×16
180
×14
200
×18
200
×24
250
×25
300
×25
350
×30
400
×30
500
×30
min.
bending
dia.
300
350
400
600
800
1000
1100
1300
1600
1800
2000
2200
2500
3600
3600
4000
4500
4500
5000
5000
min.
section
-
-
-
-
20×5
30×3
35×3
36×5
38×4
40×5
50×5
50×6
60×6
70×6
75×6
85×6
100×7
120×7
120×7
150×8
min.
bending
dia.
-
-
-
-
800
1000
1500
1700
2100
2500
2800
2800
2800
4000
4000
4500
4500
5000
5000
5000
U steel
Model
min.
bending
dia.
-
-
5
6
8
12
16
20
25
28
28
32
36
40
45
50
50
50
50
50
min.
bending
dia.
-
-
500
600
700
900
1000
1200
1500
1800
2000
2500
2500
3000
3000
3500
3500
4000
4500
5000
U steel


excurvature

U steel
Model
-
-
5
6
8
12
16
20
25
28
28
32
36
40
45
50
50
50
50
50
min.
bending
dia.
-
-
500
600
700
900
1000
1200
1500
1800
2000
2500
2500
3000
3000
3500
3500
4000
4500
5000