Innochamp Machine Tools Sdn Bhd
5, Jalan Bayu 2/3,
Taman Perindustrian Tampoi Jaya,
81200 Johor Bahru,
Johor, Malaysia.

+607-2362814

+607-2362396

019-7774523(Mr Lee)
019-7712489 (Jimmy)
lee@innochamp.com.my
jimmy@innochamp.com.my
CNC Opposite-face Horizontal Milling & Boring Machine - TKJ6913×2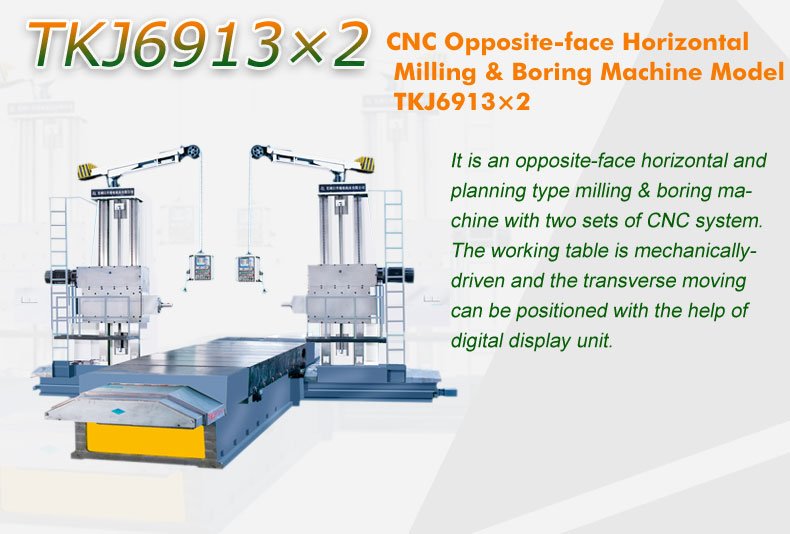 Main Use and Structure Features:
   It is an opposite-face horizontal and planning type milling & boring machine with two sets of CNC system. The working table is mechanically-driven and the transverse moving can be positioned with the help of digital display unit. This machine can be used for drilling, hole-expanding, boring, grooving and face-milling on large work-pieces. It is widely used in the fields of engineering, mine, motor manufacturing, ship-building, steel production and military engineering industry. The angle milling head can be fixed on the ram, so it can perform the functions of gantry milling machine.
  It is suitable for the work-piece, its width or the holes distance ≥ 2000 mm, to be machined from opposite sides. The axiality can reach 1000:0.05. The various machining processes on two opposite sides can be carried on respectively according to CNC programs. It can also be used for machining the various high axiality holes at two sides of work-piece.
Main specifications:
Spindle diameter

ф130

Spindle taper

80# Metric system

Power of spindle motor

22

(frequency conversion)

Spindle speed

3~700

(stepless)

Ram section size

350×420

Size of table surface

1400×4000

Transverse travel of table

4000

Vertical travel of spindle box

2000

Axial travel of spindle

700

Ram travel

700

Longitudinal travel of column slide

600

Feed rate of spindle and ram

1~2000

Feed rate of spindle box

2~3000

Feed rate of column slide

4~3000

Feed rate of working table

2.5~112

Rapid movement of working table

2000

Max. load on the table

10

Total power of the machine

120

Machine weight

85

Overall dimension (L×W×H)

10750×8300×5900