Innochamp Machine Tools Sdn Bhd
5, Jalan Bayu 2/3,
Taman Perindustrian Tampoi Jaya,
81200 Johor Bahru,
Johor, Malaysia.

+607-2362814

+607-2362396

019-7774523(Mr Lee)
019-7712489 (Jimmy)
lee@innochamp.com.my
jimmy@innochamp.com.my
Portable Rotary Facemill Machine
York Potable Machine --- Rotary Facemill Machine ---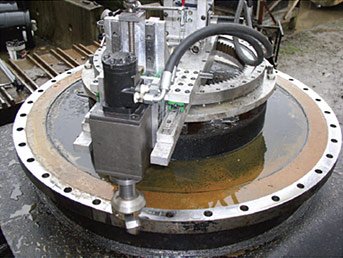 32" - 66"
Includes 5 hp Hydraulic Unit
Includes tipping stand
Machine up to 8" face in 1 cut
Machine up to 3/32" deep (depending on diameter)
The Rotary Milling Machine was built for local industry use and has successfully completed several field jobs in our area. This is a custom built machine so we will need to have as much information as possible regarding your specs and sizes before quoting a price.