Innochamp Machine Tools Sdn Bhd
5, Jalan Bayu 2/3,
Taman Perindustrian Tampoi Jaya,
81200 Johor Bahru,
Johor, Malaysia.

+607-2362814

+607-2362396

019-7774523(Mr Lee)
019-7712489 (Jimmy)
lee@innochamp.com.my
jimmy@innochamp.com.my
J21S series Deep Throat neck Press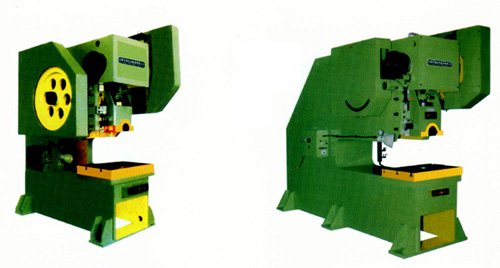 J21 series of press is applicable open-crank press, characterized by open around the fuselage (that is, C-shaped fuselage). Bed plate welding, shock-absorbing good; The new unit design, the aesthetic appearance, I have a certain jets depth, compact structure, easy to use, safe operation; Transfer of key steel clutch, brake cam belt, and the collapse of a pressure-overload protective devices. Worktable in the following three areas is wide open, armament, die and unloading operations are more convenient. For the mechanization and automation has provided good conditions, which are widely used, it is sheet metal stamping the main production equipment, can be used for punching, blanking, trimming, bending, stretching and shallow forming processes is widely used in national defense, aviation, automobiles, tractors, motors, electrical appliances , bearings, instruments, farm machinery, farm tools, bicycles, sewing, medical equipment, daily hardware, mint, and other sectors.
Model

J23S-16

J21S-20A

J21S-25

J21S-35

J21S-40

J21S-63A

J21S-80

J21S-100

JE21-160

160

200

250

350

350

400

630

1000

1600

70

90

80

100

100

120

120

130

160

120

90

100

53

85

50

50

45

50

The largest closed height

250

250

250

250

300

360

360

400

500

Closed height adjustment of

60

70

70

100

80

90

90

100

110

520

700

710

710

710

800

800

800

800

230

230

290

360

390

450

410

480

550

550

560

560

610

710

710

720

900

1300

400

360

360

380

480

480

500

600

740

200

220

220

255

320

320

320

390

800

180

200

200

210

270

280

280

340

1300

40

40

40

40

50

50

50

50

65

60

60

60

60

60

70

80

85

90

¡¡

1580

1780

1350

1480

1480

1500

1810

2100

2200

900

880

950

1050

1050

1180

1400

1740

1545

1880

2230

2130

2140

2200

2300

2750

3240

3530

1.5

2.2

2.2

3

3

4

5.5

11

15

1800

2350

2450

3500

4500

5000

6500

9000

15500

KG
Éîºí³å´²