Innochamp Machine Tools Sdn Bhd
5, Jalan Bayu 2/3,
Taman Perindustrian Tampoi Jaya,
81200 Johor Bahru,
Johor, Malaysia.

+607-2362814

+607-2362396

019-7774523(Mr Lee)
019-7712489 (Jimmy)
lee@innochamp.com.my
jimmy@innochamp.com.my
WC67Y series hydraulic plate bending machine
Hydraulic Press Brake And Shearing --- Hydraulic Press Brake ---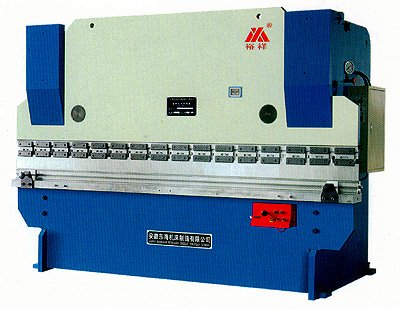 Structure and Characteristics
Using all-steel welded structure is strong enough filling and rigid.
The hydraulic drive, the machine ends of the fuel tank placement on the slider. Direct drivers sliding work.
Slider adopted by the torsional axis simultaneous forced synchronization.
Agencies using mechanical block of a stable and reliable.
His slider mobile rapid adjustment, manual fine tuning, counters show.
Wedge-style deflection compensation agencies, to ensure access to high bending accuracy.
Model

Gan

(kn)

Table length

(mm)

Column spacing

(mm)

Deep Throat

(mm)

His slider

(mm)

The largest opening height

(mm)

The main motor power

(kw)

Weight machines

(kg)

Form factor L * W * H

(mm)

40t/2200

400

2200

1850

220

100

320

5.5

2500

2200*1200*1910

40t/2500

400

2500

2030

220

100

320

5.5

2700

2500*1200*1910

63t/2500

630

2500

1965

250

120

330

5.5

4200

2500*1600*2210

63t/3200

630

3200

2360

250

120

330

5.5

4800

3200*1600*2210

80t/3200

800

3200

2360

320

120

360

5.5

5800

3200*1700*2300

80t/4000

800

4000

3100

320

120

360

5.5

6400

4000*1700*2400

100t/3200

1000

3200

2510

320

120

360

7.5

6000

3200*1800*2500

100t/4000

1000

4000

2980

320

120

360

7.5

7000

4000*1800*2500

125t/3200

1250

3200

2510

320

120

400

11

6800

3200*1850*2500

125t/4000

1250

4000

3040

320

120

400

11

8200

4000*1850*2500

160t/3200

1600

3200

2600

320

200

450

11

10200

3200*1900*2700

160t/4000

1600

4000

3300

320

200

450

11

12500

4000*1900*2700

160t/5000

1600

5000

3800

320

200

450

11

15000

5000*1900*3100

200t/3200

2000

3200

2600

320

200

450

15

11000

3200*1950*2800

200t/4000

2000

4000

3300

320

200

450

15

15000

4000*1950*2800

200t/5000

2000

5000

3800

320

200

450

15

16500

5000*1950*3000

200t/6000

2000

6000

5000

320

200

450

15

19500

6000*1950*3300

250t/4000

2500

4000

3300

350

250

550

18.5

18500

4000*2000*3400

250t/5000

2500

5000

3800

350

250

550

18.5

23000

5000*2000*3410

250t/6000

2500

6000

5000

350

250

550

18.5

27000

6000*2000*3100

300t/4000

3000

4000

3900

400

250

550

18.5

22000

4000*2000*3450

300t/5000

3000

5000

3800

400

250

550

18.5

25000

5000*2000*3550

300t/6000

3000

6000

5000

400

250

550

18.5

27000

6000*2000*3800

400t/4000

4000

4000

3300

420

250

550

37

28000

4000*2180*3800

400t/5000

4000

5000

3800

420

250

550

37

30000

5000*2180*3800

400t/6000

4000

6000

4600

420

250

550

37

34000

6000*2180*4200