Innochamp Machine Tools Sdn Bhd
5, Jalan Bayu 2/3,
Taman Perindustrian Tampoi Jaya,
81200 Johor Bahru,
Johor, Malaysia.

+607-2362814

+607-2362396

019-7774523(Mr Lee)
019-7712489 (Jimmy)
lee@innochamp.com.my
jimmy@innochamp.com.my
WC67K press brake hydraulic series
Hydraulic Press Brake And Shearing --- Hydraulic Press Brake ---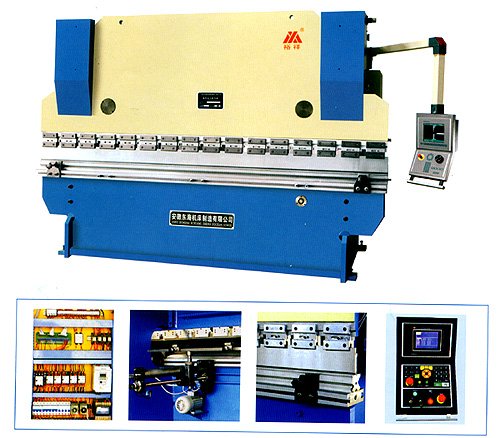 Introduction:
A, using homemade E20 CNC system, 240 * 180 large LCD display, Chinese menu-style interface. The procedure holds 100, 100 for each process step, a semi-automatic and manual features, resolution of up to 0.01, one-way or two-way positioning function, automatic concession, the system automatically records the parameters of the operator confirmed, but also may choose to use E15 or E21 CNC system.
B, by the Swiss cybe, ec and the Netherlands DELEM DNC system.
Two X-axis CNC axis control after retaining expected resolution 0.01 mm; Y-axis control slider operation, resolution 0.01 mm.
High-resolution images show that 9 inches (DNC50 LCD, DNC90CRT "14 color three-dimensional display).
Simple programming work, only input to be folded sheet characteristics, die size parameters and work out the best for both automatic bending sequence, automatic detection and diagnosis of plug-in memory cards for the 32K byte (336 order)
Model

Gan

(kn)

Table length

(mm)

Column spacing

(mm)

Deep Throat

(mm)

His slider

(mm)

The largest opening height

(mm)

The main motor power

(kw)

Weight machines

(kg)

Form factor L * W * H

(mm)

63/3200

630

3200

2360

250

120

160

5.5

5000

3200*1660*2230

100/3200

1000

3200

2510

320

120

380

7.5

6000

3200*1850*2400

160/3200

1600

3200

2510

320

200

450

11

11000

3200*2100*2800

250/3200

2500

3200

2700

400

250

560

18.5

18400

4000*2250*4060

250/4000

2500

4000

3300

400

250

560

18.5

20000

4800*2250*4060

250/5000

2500

5000

3800

400

250

560

18.5

22000

5800*2250*4060

250/7000

2500

7000

3250

400

250

560

18.5

25000

7800*2250*4160

320/4000

3200

4000

3300

400

250

560

18.5

22000

4060*2570*4560

320/5000

3200

5000

3800

400

250

560

18.5

24000

5060*2570*4300

320/6000

3200

6000

5300

400

250

560

18.5

27000

6060*2570*4560

400/4000

4000

4000

3300

400

320

625

37

29000

4050*3240*3880

400/5000

4000

5000

3800

400

320

625

37

37000

5050*3240*3880

400/6000

4000

6000

5000

400

320

625

37

44000

6050*3240*3880

500/4000

5000

4000

3300

400

320

630

45

32000

4090*2965*5320

500/5000

5000

5000

3800

400

320

630

45

39000

5090*2965*5320

500/6000

5000

6000

5000

400

320

630

45

46000

6090*2965*5320

630/5000

6300

5000

3800

400

320

710

45

67000

5090*4910*3200

630/6000

6300

6000

5000

400

320

710

45

75000

6050*4910*3200

800/8000

8000

8000

6000

350

400

750

45

10000

9500*3000*6050