Innochamp Machine Tools Sdn Bhd
5, Jalan Bayu 2/3,
Taman Perindustrian Tampoi Jaya,
81200 Johor Bahru,
Johor, Malaysia.

+607-2362814

+607-2362396

019-7774523(Mr Lee)
019-7712489 (Jimmy)
lee@innochamp.com.my
jimmy@innochamp.com.my
QC12Y series hydraulic shearing machine
Hydraulic Press Brake And Shearing --- Hydraulic Shearing Machine ---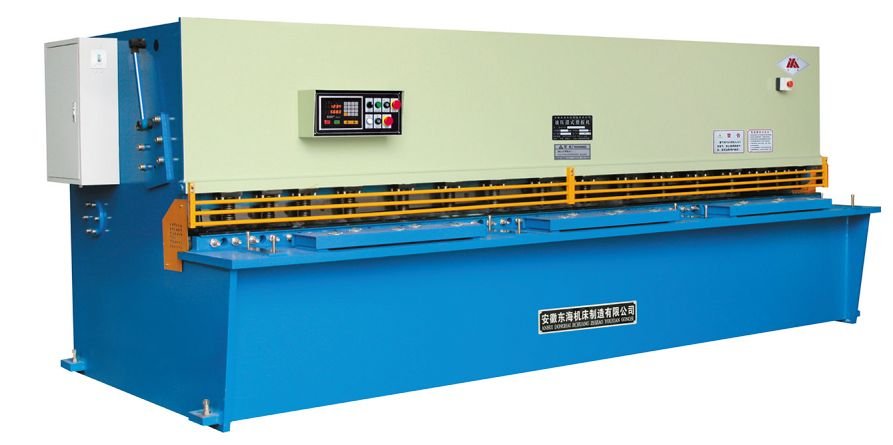 Use plate welded structure, hydraulic transmission, the return accumulator, easy to operate,
Reliable performance, pleasing in appearance.
Blade gap adjustment has signs instructions, adjusting the light rapidly and stepless adjustment.
A lighting device on the line, and can stepless adjustment of the tool carrier itinerary.
Fence-use personal safety protection device.
After a few stalls material was used MD11 system, low noise, high accuracy.
The shear number of digital display devices.
Model

The rate of motor

(KW)

May thickness shear

(mm)

Can Cutting width

(mm)

Shear angle

Material strength

(KN/cm)

After the expected adjustment of the block

(mm)
<=

Trip frequency

(

/ Min

)

Weight

(kg)

Appearance size

(

Long

*width*

High

)(

Mm

)
4*2500
5.5
4
2500
1°30
<= 450
20-400
16
3800
3040*1550*1550
4*3200
7.5
4
3200
1°30
<= 450
20-600
13
5700
3840*1550*1550
4*4000
7.5
4
4000
1°30
<= 450
20-600
10
7600
4500*1700*1700
4*6000
7.5
4
6000
1°30
<= 450
20-800
8
15000
6460*2100*2300
6*2500
7.5
6
2500
1°30
<= 450
20-600
15
5500
3040*1710*1620
6*3200
7.5
6
3200
1°30
<= 450
20-600
12
6500
3840*1710*1620
6*4000
7.5
6
4000
1°30
<= 450
20-600
9
8200
4620*1850*1700
6*6000
15
6
6000
1°30
<= 450
20-800
5
1700
6480*2100*2300
8*2500
7.5
8
2500
1°30
<= 450
20-600
14
5800
3040*1700*1700
8*3200
7.5
8
3200
1°30
<= 450
20-600
10
6800
3860*1700*1700
8*4000
11
8
4000
1°30
<= 450
20-600
8
8800
4640*1700*1700
8*6000
15
8
6000
1°30
<= 450
20-800
6
18000
6480*2100*2350
10*2500
11
10
2500
1°30
<= 450
20-600
10
6500
3040*1800*1700
10*3200
11
10
3200
2°
<= 450
20-600
9
7400
3860*2000*1700
10*4000
15
10
4000
2°
<= 450
20-600
8
12500
4650*2100*2000
10*6000
18.5
10
6000
1°30
<= 450
20-800
6
22000
6500*2100*2300
12*2500
18.5
12
2500
1°40
<= 450
20-800
12
9800
3140*2050*2000
12*3200
18.5
12
3200
1°40
<= 450
20-800
10
11600
3880*2150*2000
12*4000
18.5
12
4000
2°
<= 450
20-800
8
13800
4680*2150*2100
16*2500
18.5
16
2500
2°
<= 450
20-800
10
11000
3140*2150*2000
16*3200
18.5
16
3200
2°
<= 450
20-800
8
12600
3880*2150*2000
16*4000
18.5
16
4000
2°30
<= 450
20-800
6
14500
4650*2150*2200
20*2500
30
20
2500
2°30
<= 450
20-800
8
14800
3440*2300*2500
20*3200
30
20
3200
2°30
<= 450
20-800
7
17000
4150*2350*2700
25*2500
30
25
2500
3°
<= 450
20-1000
8
18800
3200*2700*2900
30*4000
37
30
4000
3°
<= 450
20-1000
8
29000
4700*3200*3400