Innochamp Machine Tools Sdn Bhd
5, Jalan Bayu 2/3,
Taman Perindustrian Tampoi Jaya,
81200 Johor Bahru,
Johor, Malaysia.

+607-2362814

+607-2362396

019-7774523(Mr Lee)
019-7712489 (Jimmy)
lee@innochamp.com.my
jimmy@innochamp.com.my
3 ROLL BENDING MACHINE 每 VARIABLE GEOMERY
ROCCIA (Italy) Metal Fabricate Machine --- 3 ROLL BENDING MACHINE VARIABLE GEOMERY ---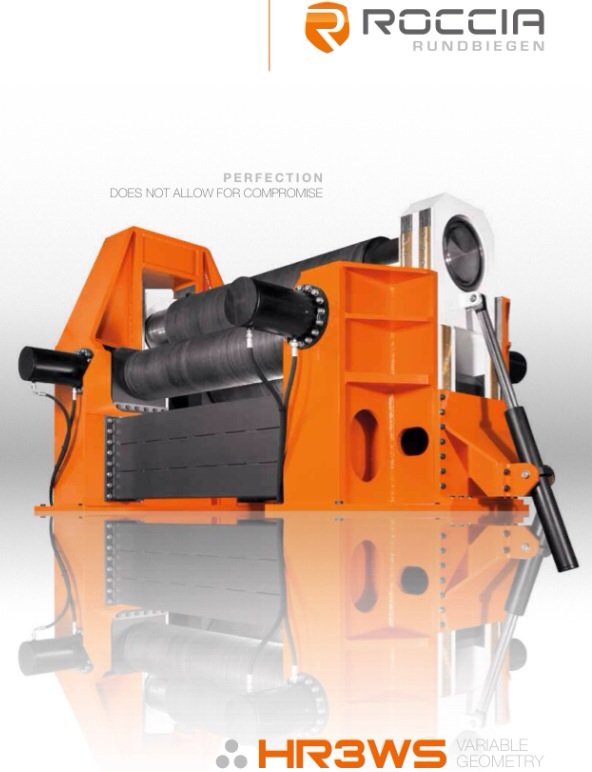 THE MOST ADVANCED 3 ROLLS BENDING MACHINE
3 roll variable axis plate bending machines are used for bending medium to thick plates. They are very precise and easy to use. There are advantages by using this system where the two side rolls move horizontally – left and right, while the top roll moves up and down. When feeding the material into the machine it does not tilt up like it would on a double pinch three roll bender, but stays parallel to the ground allowing easier and safer material handling. When positioning the side rolls at their farthest position, you can increase the rolling capacity by up to 50% more than on a traditional 3 or 4 roll bending machine. Three driving rolls offer full control over the bending process.
ROLL DESIGN CALCULATION. It is the heart of the machines performance; it's what makes a ROCCIA plate roll different from the competition.
Roll camber calculation. Roll camber is required to counter act roll deflection that occurs as bending forces are applied, so as to ensure a perfect closing of the longitudinal seam, it is a vitally important factor. If the camber is calculated incorrectly, the result will be, (1) a barrel shaped cylinder ie not closing perfectly along the longitudinal seam, gap in the middle, (2) an hour glass shaped cylinder, the longitudinal seam touching in the middle, but not at the ends. ROCCIA roll dimensioning camber calculation are done on sophisticated 3D cad software that produces all the critical data required for every step of the rolling process. Roll calculations are seldom to standard formulae, no, they are calculated around customer requirements, this being, material type, mechanical strength, material thickness, the rolls cylinder length dimension. Only this way can we grant the performance and the precision of the plate rolling machine we manufacture for you.