Innochamp Machine Tools Sdn Bhd
5, Jalan Bayu 2/3,
Taman Perindustrian Tampoi Jaya,
81200 Johor Bahru,
Johor, Malaysia.

+607-2362814

+607-2362396

019-7774523(Mr Lee)
019-7712489 (Jimmy)
lee@innochamp.com.my
jimmy@innochamp.com.my
Portable Electromagnetic Automatic Drill & Tapping Machine MTM-932ADL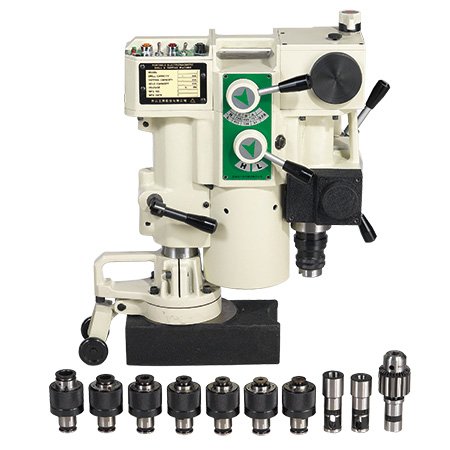 Product Features
With circuit protection of breaking for motor, once any wire of three phases power source is broken off, this unit could cut off current to motor to prevent motor from being burn out.
Drill sleeves, tapping adaptors and borer holder are all with rapid adaptors, very convenient for replacement of cutters.
Tapping adaptors with torsion control, tap bits are protected from being twisted off.
MTM-932ADL comes with drilling force control unit for Auto-feeding:
When drill bit is worn out, this unit will drive feeding intermittently or stop feeding, Once feeding becomes difficult while making a hole, please replace a new drill bit or re-sharpen the worn out one in order to protect both drilling tool and machine body from being damaged.
MTM-932ADL comes with three intermittent breaking rates for breaking chips:
Choose different feeding rates according to different drill bits and material to perform Auto-Feeding operation. This device can break chips intermittently and discharge them while Auto-feeding is processing, so that chips would not roll on drill bit, Easier to discharge chips.
MTM-932ADL comes with three feeding rates for Auto-feeding:
Feeding rates are separately 0, 0.15 and 0.25, please choose suitable rate according to size of drill bit and material of work-piece for drilling.
Specifications
Model
MTM-932ADL
Drill Capacity
1/4"~1-1/4"
6Ø~32Ø
Tapping Capacity
3/8"~1-1/8"
10Ø~30Ø
Power
220V
3-Phase
HP
2
R.P.M.
756 456 303
186 127 51
Feeding Stroke
100mm
Body Stroke
150mm
Turning Degree
330°
Transversal Move
20mm
Magnetic
135x280mm
Magnetic Force
2500kgf
Height
620mm
Torsion Fixture Standard Fitting
7
Drill Sleeve Standard Fitting
3
Fittings Weight
7
Machine Weight
80kgs
* 3-Phase 380V, 415V, 440V, Are Available for Requirements of Customers.