Innochamp Machine Tools Sdn Bhd
5, Jalan Bayu 2/3,
Taman Perindustrian Tampoi Jaya,
81200 Johor Bahru,
Johor, Malaysia.

+607-2362814

+607-2362396

019-7774523(Mr Lee)
019-7712489 (Jimmy)
lee@innochamp.com.my
jimmy@innochamp.com.my
Baoji CJK6163 CNC lathes
Lathe --- Lathe - Baoji ---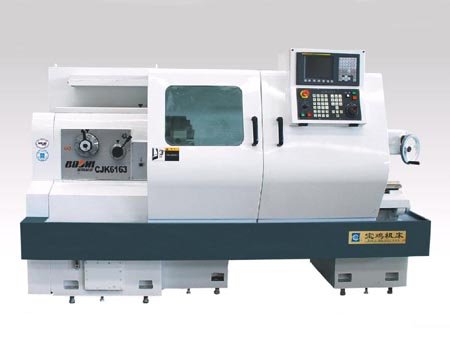 Introduction
CJK6163/HK63 CNC lathes adopt the high grade cast iron bed and quenched and burnished guideways feature the wide guideways, high rigidity, stable accuracy, etc. With FANUC 0i Mate, MITSUBISHI E60, Siemens 802D, DASENG, KND1000T,etc. CNC systems, the lathes are suitable for machining internal and external cylinders, cones, arc and curved surfaces, ends, and inch or metric threading as well. Also with 4-station turret and protection cover, CJK6163/HK63 CNC lathes are available for different needs of customers as well as civilized production. The centralized panel makes operation and programming so convenient for operators. It is available for various middle or small batch production, and their excellent features can be further showed in machining complex and high accurate work.
Specifications
ITEMS

UNIT

CJK6163

HK63

Capacity

Max. swing dia. over bed

mm

φ630

Max. swing dia. over carriage

mm

φ360

Max. turning dia.over bed

mm

φ500/φ325( 6-station turret)

Distance between centers

mm

1000/1500/2000

Max. turning length

mm

425

Spindle

Spindle bore diameter

mm

φ84

φ84/φ80 *

Type of Spindle nose

A1-11

A1-11/A2-8 *

Spindle speed

rpm

18~1600

(14 Steps)

H 155~1600

M 50~525

L 20~210

Spindle drive motor power

kW

11

11

inverter motor

Feeding

X-aixs/Z-axis motor power

kW

0.6/1.0

X-aixs/Z-axis leadscrew dia.

mm

φ32/φ50

Tailstock

Tailstock quill diameter

mm

φ80

Tailstock quill travel

m/min

200

Tailstock quill taper

Morse No.5

Turret

Rapid traverse rate

m/min

6/6

Number of tool stations

4

Tool section

mm

32×32

Others

Power

kVA

30

Dimensions(L×W×H)

mm

1000:2800×1530×1670 1500:3300×1530×1670

2000:3800×1530×1670

Weight

kg

3250/3500/3750